Martin Garrix is Gearing Up To Play 'So Much Unreleased Music' During TML's NYE Stream
We're but a mere two days away from saying farewell to one of the most hellacious years to date. Although many of us are still in lockdown, there's nothing stopping us from welcoming 2021 in a positive fashion! Keeping the governments regulations and restrictions in mind, we believe livestreams are the answer to ringing in the New Year in style! 
The dance music community has truly been blessed with an overflow of creative streams throughout the entire pandemic. Despite the many outstanding and downright groundbreaking sets, Tomorrowland reigns the superior virtual event experience. If you missed the jaw-droppingly innovative 'Around the World' digital festival that took place this summer, here's your chance to take part in the sheer magic that is Tomorrowland...from the comfort of your home!
On December 31, 2020, another special virtual festival will take place. Tomorrowland confirms, "more than 25 of the planet's best artists will perform on four mesmerizing digital stages in the brand-new digital entertainment venue NAOZ." Among these artists is none other than Martin Garrix - it's been reported he's gearing up to deliver one of his most game-changing sets to date!
"I'm very happy that I'm part of Tomorrowland's New Year's Eve line-up," Garrix said. "The way Tomorrowland set up the summer edition of Tomorrowland Around the World, the way all the visuals looked – even though there weren't real people, looking back at it, it felt like I was at a real festival, so I'm very excited to be on stage for the New Year's Eve party. I'm going to play so much unreleased music and I really want to take people on a journey, playing some different sounding stuff and new things – I want it to be more of an experience."
For weeks now, the world-renowned Belgian electronic dance music festival has been uploading glimpses into their highly anticipated digital event. Check out the official preview of Garrix's set below. Without a doubt in our mind, the young superstar's set will be nothing short of spectacular! Be sure to grab your tickets here and catch him at the Melodia stage from 22:35-23:40. From all of us at The Flag Gang, we wish you all a fantastic New Year. May 2021 be an extraordinary one!
Official Timetable (Including the Lineup):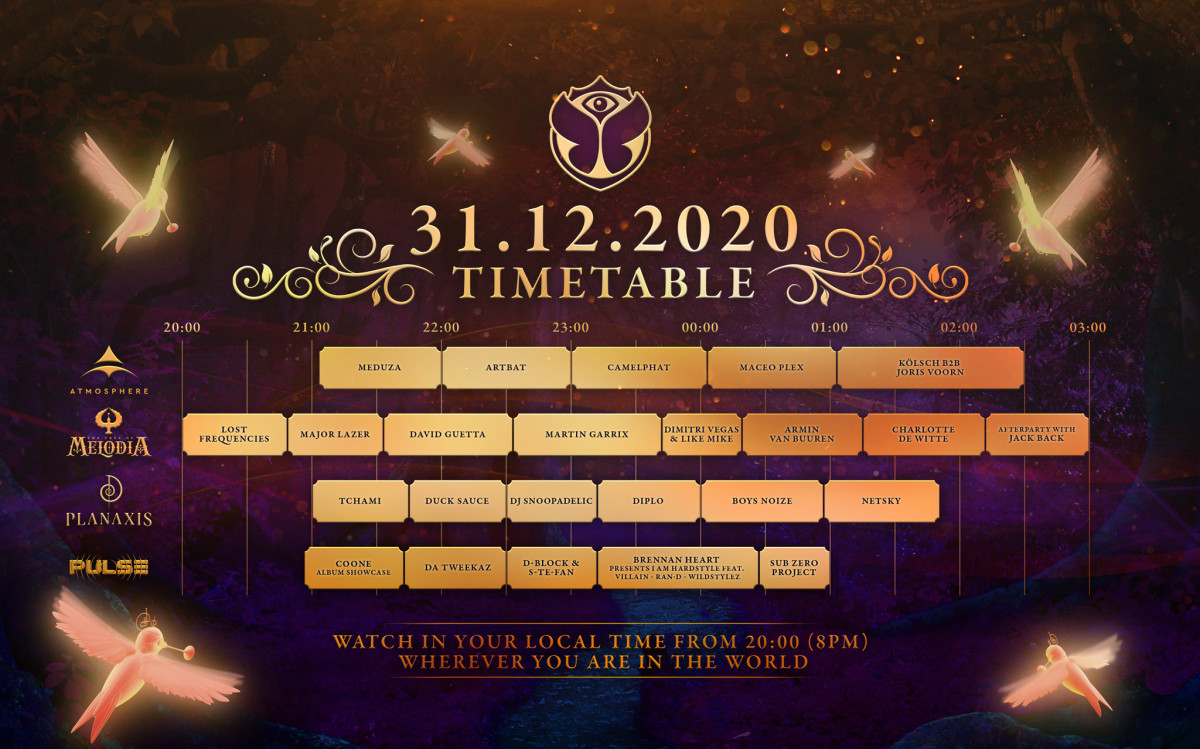 ---